How we met #2: Jobst Brandt and Cino Cinelli
17 November 22
Jobst Brandt (1935-2015) was one of cycling's most influential outsiders and inspiring explorers.
A pioneer of riding road bikes off road, he led legendary 'Jobst rides', which, years before the evolution of mountain bikes and gravel bikes, took cyclists like Tom Ritchey, Gary Fisher and Eric Heiden deep into the trails of the Santa Cruz Mountains as well as developing meticulously innovative solutions for the modern cycling such as treadles tyres and the first bicycle computer.
Thanks to our old friend and contributor to Cinelli: the Art and Design of the Bicycle, Max Leonard we recently discovered that Brandt was a passionate customer of Cinelli's framebuilding department throughout the 1950s, 60s and 70s, purchasing at least six bikes over these three decades as well as taking priceless photos of the factory and Cino. Because of Brandt's longstanding passion for using road bicycles offroad, Cino's own familiarity with these surfaces from his days as a professional in the heroic 30s and 40s we were extremely curious to discover more about the technical dialogue and relationship between these two very different, very opinionated innovators of the modern racing bicycle and how it might relate to gravel cycling innovation today.
Below are notes and photographs from Max's soon to be published book on Brandt for which you can pre-order a copy and support the project HERE.
Throughout the course of his life Jobst also spent almost fifty summers in the Alps, lightweight touring and adventuring over 2,000 miles each time, always carrying a camera to document his trip. On his first Alps ride, in 1959, he paid a visit to the Swiss tyre manufacturer Sieber, who persuaded him to swap to wooden rims (Jobst's tubular glue was melting on his Fiamme alloy rims on the long Alpine descents).
Then Jobst headed to see Cino Cinelli.
"The next morning with tires glued and wheels true," Jobst wrote in his journal, "I thanked Mr Sieber for all his help and rolled on to Milano where I stopped at the train station and got rid of some extra clothes into the suitcase. I headed east across town on the via Andrea Doria and via Porpora to Lambrate, to via Egidio Folli 45 where the Cinelli factory is located, producing bicycles, bars, and stems at a great rate. Mr Cinelli's office lies next to a branch of the Lambro river that is apparently a main sewer outfall".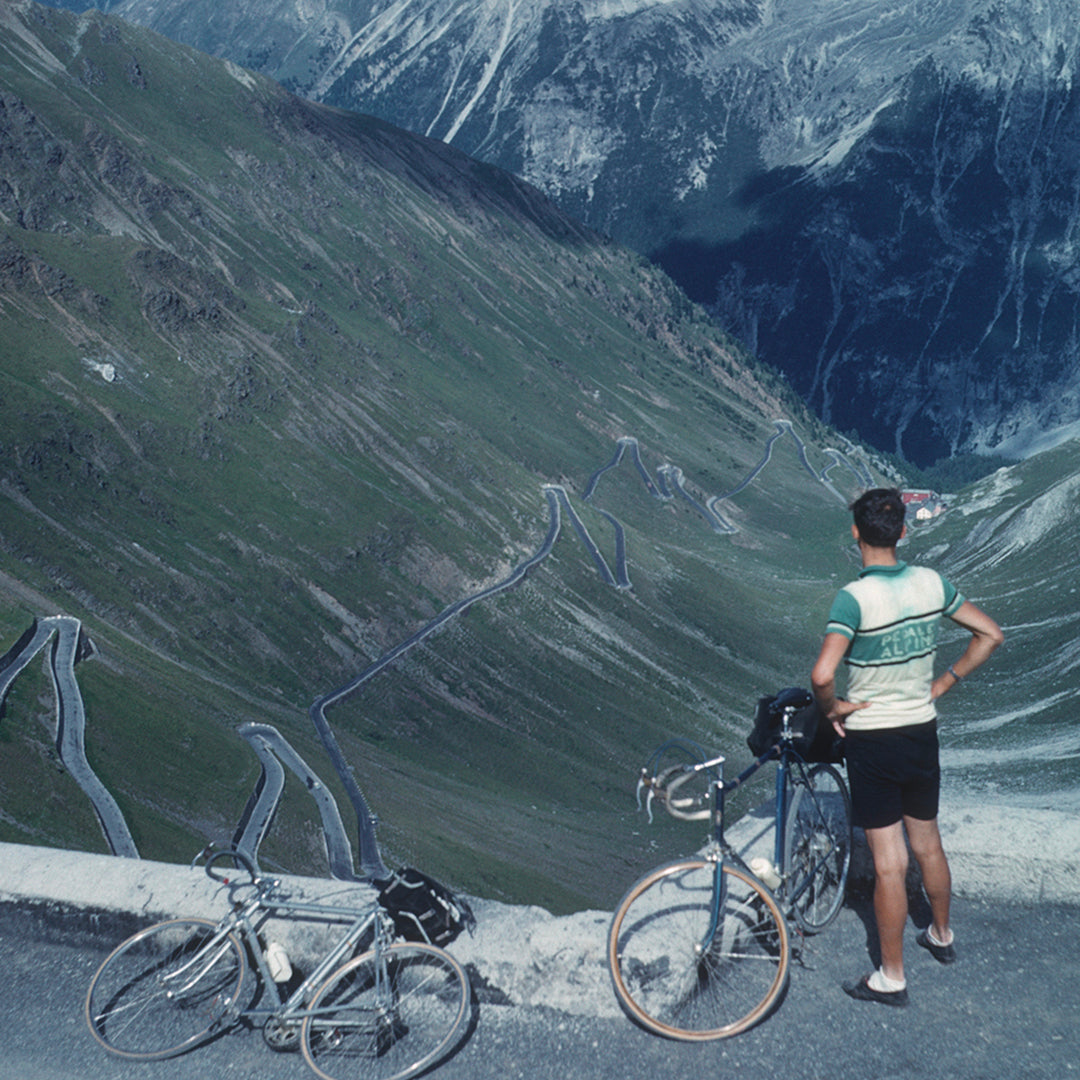 "I found a sharp contrast with the surroundings and the buzzing thriving factory that was producing such elegant machinery. Mrs Cinelli briefly mentioned her days at Sieber, and that she had been his secretary for years when a young bicycle racer from the Toscana, who dropped in for equipment on occasion, offered her his hand. Cino looked at my bicycle and how it fit me and said that he would do something about that tomorrow after giving it some thought".
"In the morning he had me ride around the yard a few times and then raised the saddle a bit and moved it forward. He put his newest model 360mm extra wide bars with deep reach on a 120mm stem, placing the brake levers in a better position. Down below I got the newest Campagnolo crank spindle and 180mm five-pin Cinelli (Magistroni) steel cranks that finally gave me true running chainwheels in contrast to the previous three pin style. He was disturbed by my choice of wooden rims and tried to get me back on Fiamme aluminum but I didn't take."
The bike Jobst was riding on this trip was a 62cm blue Cinelli Super Corsa, ordered from Spence Wolf's bike shop in Cupertino, California.
Jobst ordered one such frame in 1957 and one in 1958. After the 1959 Alp tour, Jobst took a job at Porsche in Stuttgart, where he translated the manual to the 356 and later worked on race car suspension. From his new European home he visited Cinelli again on his Alps tour in 1960, and then throughout the 1960s and 70s.
In 1962 he ordered a Super Corsa direct from Cino, and in 1964 he took his new wife Helga on a tour of the Alps, during which they stopped off at Cinelli to pick up a matching frame for her (which she still owns). They also dined with Cino and family in his private apartment. Helga's bike features a very early set of vertical rear dropouts, which had been designed and manufactured by Jobst; later, he claimed Cinelli must have passed these to Campagnolo and that they became the model for Campagnolo's own.
Back in the USA after he married, he would go on to order at least another Cinelli from Spence Wolf in Cupertino, in 1971, and kept up a correspondence with Cino into the 1970s.
After meeting and riding with Tom Ritchey, who was building fillet-brazed road frames while he was still in high school in the 1970s, Jobst began riding a Ritchey frame, and ended his riding life on a frame built another California builder, Peter Johnson.
All in all, Jobst owned at least six Cinelli frames. None of them survive: as a 6'5″ rider who liked to ride on dirt, he was hard on frames and components, often cracking, shearing or denting what he rode.
He was not shy of pointing out what he saw as manufacturing defects even to master builders like Cino Cinelli!