True story: the origins of the Cinelli Art Program part 1
24 December 22
The origins of Cinelli's unique relationship with art are scattered across the late 1970s and early 1980s.
They can be found in their graphic designer of choice, Italo Lupi who would go on to design Miu Miu and Fiorucci logos as well as Miuccia Prada's private residence, in its commissions from stalwarts of the 1980s Milan design scene such as Alessandro Mendini or the Alchimia group, or in the exchange of letters and ideas between Keith Haring and Antonio Colombo that led to the now iconic Laser collaboration…
But the origins of the Cinelli Art Program – the program within which the brand's relationship with art has been formalized into products, most famously our signature cycling caps adorned with custom commissioned graphics for artists such as Futura2000, Ana Benaroya, Barry McGee, Mike Giant and Yoon Hyup – can be located in a single, unusual, moment: the Cinelli RAM AUTOGRAPH.
The Cinelli RAM, launched in 2001, was the world's first ever integrated carbon fiber handlebar and stem.
A pioneering project at a time when carbon fiber technology was still nascent in the cycling industry, the bars were an immediate success in the professional peloton, with their stiffness and responsiveness literally changing the way a generation of professionals would ride their bike, as Gilberto Simoni so articulately put it in his interview in the Cinelli: the Art and Design of the Bicycle.
The success of the bar from a technological point of view immediately led to Cinelli's favourite pastime: "play".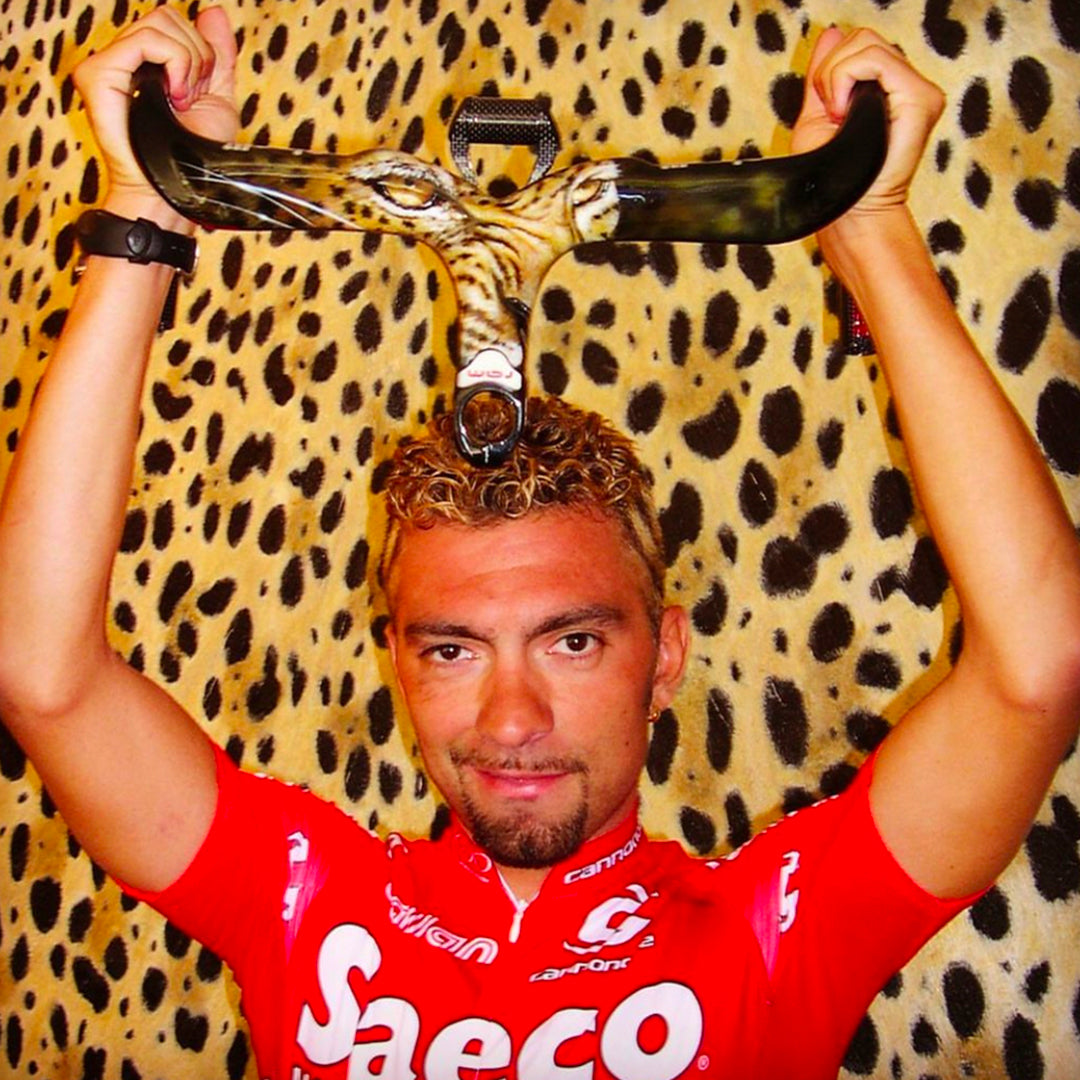 Over the next 5 years a series of ever more exuberant and unusual hand-painted (or even randomly hand placed carbon strips…) graphic schemes were released, dedicated to different professional riders.
These were sold under the name of RAM AUTOGRAPH.
In 2010, Antonio Colombo's friendship with the artist Mike Giant led to the brand commissioning Giant to produce a new RAM AUTOGRAPH graphic.
Thanks to the creative team's closeness to the burgeoning fixed gear scene and urban culture in general they proposed to Colombo adapt Giant's graphics to a series of more affordable and immediate products such as bar tape and cycling caps that could be purchased and used by urban track bike riders.
And it was these new Mike Giant illustrated products which inaugurated the first ever edition of the Cinelli Artist Program.
Over the last twelve years the brand has gone on to collaborate with over 25 different artists.
The opinionated, outspoken and spontaneous creative freedom of these artists, combined with Cinelli's historical closeness to Il Grande Ciclismo has transformed the Cinelli cycling cap into the definitive icon of a new cycling attitude…
Discover more about the Cinelli Art Program products on our webstore.